Captain's Log…. It's going to be one long and painful journey towards a fitter me.
Once again, I have found myself slacking off into the void of utter laziness, into the abyss of absolute procrastination. With no real goals in mind to aim for, I was this close to getting back to my pre-2004 days. My mental strength waned and with it, my resolution to accomplish anything meaningful this year.
So this morning's Personal Training (PT) session felt like a breath of new life amidst the stagnation. 8am sharp, I meet with my new trainer for 16 gruelling sessions, Kevin from California Fitness. He asks what I've had for breakfast and how long it's been since I've been in a gym. He wants to assess me, so he takes me straight to some bars and gets me doing chin-ups right away. Whatever happened to cardio, I think to myself. None – Instead, he continues to whack my arms non-stop.
He later tells me my upper body is what requires a lot of work. No shit, I knew I had chicken arms :) He gives the legs a good and proper work-out but nothing Anne Date's bootcamp sessions haven't prepared me for, so all is good in that area. He sees that my core is weak so proceeds to kill me with bridge after bridge. But no, there is no rest for the weary. 'Lift one leg whilst you bridge, please.' I almost keel over from the quivering. I leave the session feeling thoroughly whacked and I realise I must be a masochist because I love the way my triceps, lats and trapezius muscles are twitching at my every single move.
I am given daily food logs to fill in, so Kevin can see what I eat – He has taken one good look at me and my fitness and deduced that it is my food intake which is my failing. He's not far off the mark there. By golly, how does one know just with one look? I feel as naked as Maritess to Superman's x-ray vision. I feel inspired. Someone is now watching out for me and wants me to make changes. Very specific changes. No one is telling me to drop weight, in fact the assessment is quite the opposite though I'm not willing to become a chunky munky either. The recommended programme is exactly what I have wanted – All about arms and abs.
I feel like it's time to kick some ass, in more ways than one. [Insert strained kungfu noises]
I hope I can keep this one up.
With any luck, I could just achieve what I've always wanted…. Arms like these?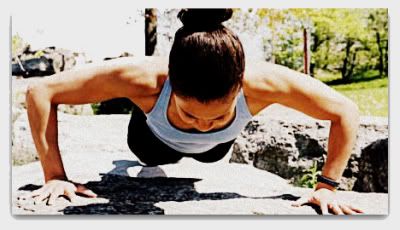 Note: No Body Age assessment today though. Compu'er says no.