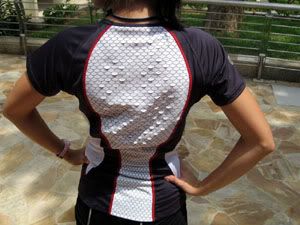 Nike Sphere Macro React Short Sleeve Top
This morning's bike ride was a challenge since the stomach cramps only went up a notch.
We tried out the Kent Ridge trail for the first time and boy, it was so different. Very, very technical. At one point during the ride, I was simply slipping and sliding around, and trying to balance whilst doing so. Then there were the two drop-offs which I was a little apprehensive of trying.
But on our second lap, we sucked it up and got it sorted. My heart was seriously pumped with adrenelin and this probably helped with the last climb up along Vigilante Drive. Ouch.
Angie and I have decided to finish our first mountain bike race tomorrow. We'll do it together from start to finish, and we'll cross the finish line together. Apparently, only 1 other girl has signed up to race. So we're thinking of tipping the podium by sharing that no. 2 spot.
Meanwhile, I must say I'm absolutely amazed by the new Nike Sphere Macro React Cool technology.
When I first got the top during the week, I was a little apprehensive about whether or not I'd really use it since I don't normally wear dark colours out in the sun and I prefer sleeveless tops to keep cool… But the fish-like scales provided heaps of ventilation and I was really comfortable.
I should find out if they've got it in other colours 'coz it's perfect for biking!
Nike Sphere Macro React Cool's technology adapts to the athlete's performance needs with fibers that open up to increase airflow across your skin, allowing maximum breathability and cooling. Resembling fish scales, the fabric physically opens with increased moisture. Strategically placed vents open when triggered by sweat, moving moisture away from the body. The vents then return to their original position as sweat evaporates. Features include zoned mesh venting on sides and back, placed for ease of movement.