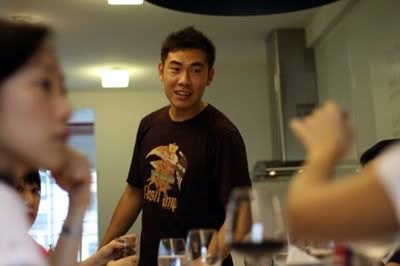 Some of us are born with a gift in life – For the very talented Mervyn Phan<a href="">Mervyn Phan</a>, this gift was to cook. As a kid, he grew up with the charismatic Martin Yan working his meat cleaver magic on telly. As an adult, Mervyn has come into his own giving lessons to those who wish to go further in their cooking experiences than just overly dense cakes and overcooked meats.
Enter Mervyn, the modern day Jamie Oliver of Singapore.
All his tricks he's learnt from watching the masters on the tube, and all his ingredients he sources from The Green Grocer where him and his wife, Amanda, work. Attending a class with Mervyn is interesting and so totally worth it. For a mere $80, you get an elaborate menu to work with and chow down, as well as an unlimited amount of wine and juices to guzzle. The work tables are covered in white mahjong paper for a no muss, no fuss experience and everyone gets an apron to protect their clothes and wipe their grubby paws on.
The class that Hubba and I attended yesterday was a meat session, so the menu was extremely heavy. At first, I thought I'd brought Hubba along just for the clean up (nomnomnom) but I was soon tickled to see him completely absorbed in Mervyn's lesson and taking notes conscientiously like a star student. Yes, even the men got involved in the session! I guess Mervyn made it look 'cool' :)
Here's what we made:
Beef Carpaccio with sauteed Chanterelle Mushrooms and Ice Salad
Roasted Kurobuta Pork with Miso Orange Sauce
Braised Lamb Shank in Red Wine Sauce and Truffle Mash
Chocolate Mousse with Fresh Berries
And how did it all turn out? YUMYUMYUMYUMYUM!! It was fantastic!
We all got our hands dirty during the 4 hours – From beating egg whites till they were solid enough not to fall out of the pan, to marinading our own slabs of shank before wanton-wrapping them up for the oven. It was a superb dinner, indeed. And the best part is, Hubba and I met lots of different people during the session and had fun! Oh, and I got to do a quick catch up with Candice too, who was there with hubby Keat.
Soon to come…. Gourmet Burgers and Shakes… Sounds like a perfect lesson.
Hubba and I are so gonna be there! Thanks for inviting us, Amanda. It sure was fun!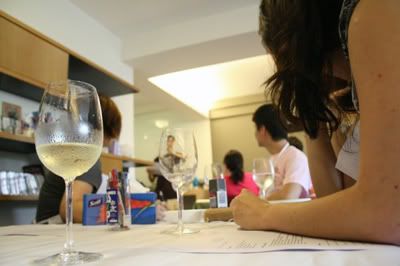 attentive people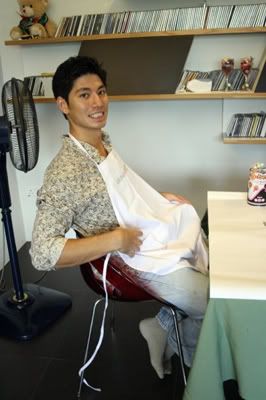 a very hungry hubba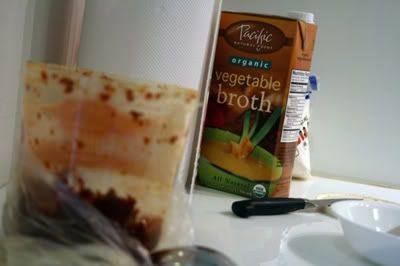 organic stock and sundried tomato paste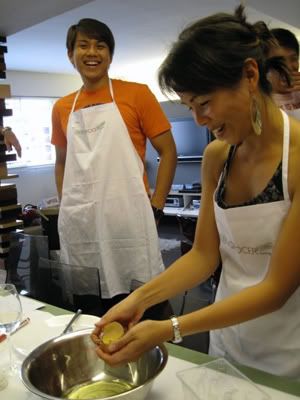 separating the yolks from egg whites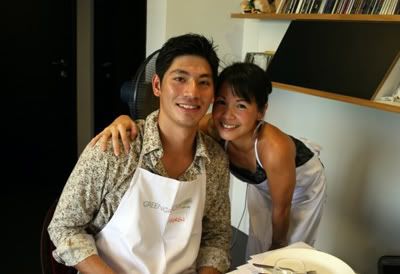 It truly was a great way to spend the day together.