Cross-posted on Relax
To many, the thought of sitting by the pool all day, every day, sipping cold drinks and reading in the quiet, might sound like paradise.
But to me, too much of a good thing can be bad sometimes and by Day Five, I was going slightly stir crazy sitting around and relaxing. I needed to get out there, right now.
My mind yearned some outdoor stimulation and my legs itched for a good run around. I obviously needed the adrenalin rush and craved some adventure. So when Claire suggested a little trip out to a nearby island for some exploring, I was well up for it.
As soon as my feet touched the sand at Bang Rak beach, I knew I was in the right place. My sister walked ahead with our guides, doing her journalist thing asking all sorts of questions. I hung back, took in the sounds of the waves rolling gently onto the shore and took in probably one of the largest breaths of my life.

This is how I detox
I waved at a couple soaking themselves in the sea nearby. They may have picked a strange spot to take a dip (right between several docked longtail boats), but they sure looked like they were having a good afternoon.

I smiled when they waved back
Not many people get the chance to visit a private island before it's even launched to the public, so spending an afternoon on Koh Som was just what the doctor ordered. Chetz got a chance to read somewhere other than the pool and I got to let my legs go bonkers for a day.
Boy, was I excited!

turtle island

Who wants to climb up the turtle head? I do!
Jason had suggested we take a kayak out but I was all set to swim across to the island so I set off running in that direction. The boys were a sport and came after me, even though they'd mentioned something about getting back to the office early.
Unbeknownst to me, the water between Koh Som and Turtle Island was full of rock so we spent a good 25 minutes wading and negotiating the boulders. Both boys, bless them, were slip-sliding around on the slimy rock with flip flops. At one point, Jason's heel looked like it had been cut by something so I was very thankful I had on my adizero's.
The scramble up to the top of the "turtle head" took a short but intense 15 minutes, and I'm proud to say I was announced the first woman to have ever made it up there. It was spectacular. Nothing but blue sea for miles. I actually wished I could just set up camp up there for the night, but I had an inkling my sister wouldn't be all that crazy about the idea.
Without safety harnesses and just trees around you to use as life support, the climb down was a lot more challenging. But we made it down fine and got back to Chetz in time for a celebratory sundowner Chang beer.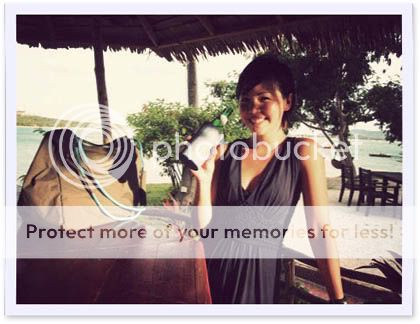 Insert fizzy can opening and ahhhh sounds here
I got my adrenalin fix and my taste of fine, Thai brew. Talk about a good detox!
Meanwhile, Chetz lazed on the beach with her Kindle….

zzzzz
Read about my sister's experience on Koh Som here.