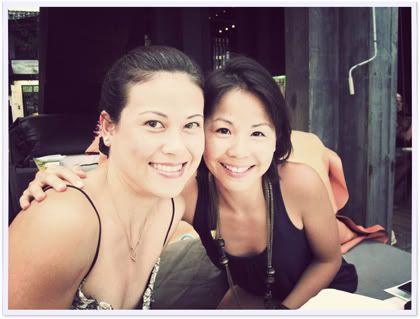 (Espirit-inspired tank from Loef)
This is Claire Bostock.
She is the Executive Director of Absolute Sanctuary and my sister's childhood ballet friend's little sister. Yes, I know it sounds very convoluted but it is because of Claire that my sister and I found ourselves in Koh Samui. And it is because of Claire, my sister is now living a changed life :)
But this gorgeous and beautiful Claire is also an inspirational athlete with – what I feel – is an Impossible Is Nothing story to share.
In school, Claire was a dragon boater and long-distance runner. She could do chin-ups like the boys and she ran marathons. She was strong and determined, at least from what I gather. But when she was 23, a marathon injury almost cost her a leg. Although she felt pain in her right calf, she kept going and ran through it. After the race, she put herself in her car and drove home. But the pain got too unbearable and she suddenly found herself going into an operating theatre for emergency surgery.
To save it, an entire muscle – the extensor hallucius longus (EHL) – had to be removed from her right leg. And it was too. The long-distance runner was no more.
Most people would have seen this as a mahoosive set-back, but not Claire. She pursued a whole different sport, became a yogi and today she's an executive director of a yoga resort chain, integrating work with something she loves dearly.
I don't know about you but I find this incredibly inspiring.
So to you yoga buffs out there, I'm not sure if you'd find fault with the fact that Claire isn't pointing her foot in the picture below… But the fact is she can't because she's missing the muscle to do it!