It all began with Ee-Lyn helping me out the other day.
I was marveling at her girlie pouch preparedness and had decided that I would make it a point to assemble one myself. I passed by a travel shop, spent $9 on a pouch and started narrowing down what I'd need to take with me.
Here is what I now carry with me everywhere: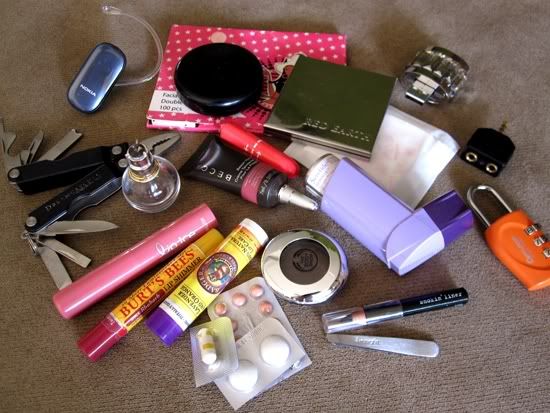 Oil blotters  –
Female monthly essentials
Pocket mirror (for spinach in teeth moments)
1GB USB thumb drive
Double headphone jack
Combination lock for gym use
Inhaler
Multi-tool (for any form of emergency)
Nokia Bluetooth headset
Eclat D'arpege mini perfume
Becca cheek tint
Lip Ice & Burt's Bees balms
Lavendar & Orange badger balm (in case of blisters or chafing)
Body Shop eyeshadow
Benefit mini eyeliner
Tweezer
Painkillers & anti-inflammatories
I'm quite excited about being prepared for any situation now. And it's all thanks to Ee-Lyn too :)
The funny thing is I've told a few friends about this and apparently they ALL already have girlie pouches. So they decided to share their contents too! It's becoming a meme – Haha! Here are Mel's and Faz's.
Some of my other friends have also posted their's on Twitter – We're now at 5 or 6 and counting! Even the dudes are tempted to show us the contents of their manbags. Haha!
Very amused. Although I am getting a lot of grief for carrying a multi-tool around….
Gracie's comment cracked me up:
why in the world do you need a multi-tool in your pouch??? are your eyebrows THAT stubborn?
LOL!
So go on then, what's in your's? (Post it and share your link with me, please!)
Note: Gadgets packed separately.