About a month ago, Hubba and I signed up with Evolve MMA to get back in shape.
We'd gone for a long enough time as lazy beer-guzzling slobs and the inactivity was really taking its toll on our bodies. Busy with work and school, my Bruce Banner was showing his green Hulk-like side more and more often, and my own emotions were going a little haywire with the twinges in my weak back. We'd really reached the stage where enough was enough, both of us needed something that would get us going again, provide us with some motivation to keep fit, but yet with the most effective use of our time.
I needed to work on my core strength, Hubba needed to blow off steam. We both needed to get fit. Going back to martial arts was the common ground that we seemed to find ourselves at…. So, we shook on it.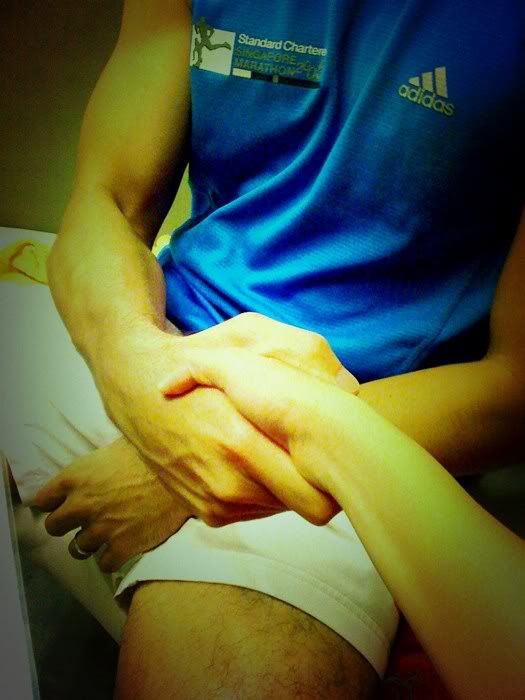 This year, I focus on making me strong and healthy in body and mind again.
It's been just over three weeks and already I feel like a different person.
Muay Thai is almost like ballet – My body is starting to think about form, I feel a lot more conscious of my posture and my muscle memory seems to be returning. The early morning classes are such a great way to start the day and by the time I get to work, I feel light, refreshed and ready to (kick)start my day. Hubba and I have been doing class at 6.30am so that leaves us some time to have breakfast together before we both go to work – This is giving us more quiet time to share before he needs to go bonkers with work and school. He leaves feeling like his head is clear too, so it's really doing us both a world of good.
Fightshape is getting more and more satisfying. After my first class, I could barely move. All my muscles got up from their 2-year hibernation period. The instructors are really helping my back recover and now the more I go, the quicker I recover. I am not aching anymore and I can now do things like stoop over and bathe my doggies without my back aching. I feel as good as new! Of course, I'm constantly listening to how I feel so if I get a bit tired or I feel something is up, I don't push it. But generally, I feel like I've made such great progress. And it feels fantastic!
I'd really like to give BJJ a go as well. Akan Datang.
Long way to go man, here begins my journey. Watch this space.
** If you do decide to check the guys out at Evolve, tell them I referred you to score some extra goodies :) – You'll have to say Janice Lee Fang at the Far East Square gym though coz none of them know about this blog. Ha!